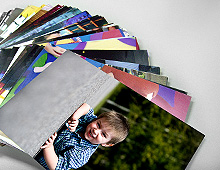 Here are some great tips sent to me from our V&J Listener, Denise A.
• Don't forget to take belly pictures every month to show your progress. Especially using now as a benchmark. Your stomach will never be the same again, so it's a wistful picture to look back on.
• Same with once LBT (Little Baby Thornton) is born—pictures every week next to the same stuffed toy for the first couple months, then every month for the first year or two. Having the same point of reference will really show LBT's growth. I wish I'd done that with my kids!
• I made the cutest scrapbook page for my son in the idea of a clock—a perimeter of circle pictures from newborn to 11 months and 1 year old in the middle. You can see the changes, but not as much as if they were all with the same setup at the exact month mark. At that point I was already 6 months pregnant with my daughter, so he doesn't have too many pages after that! Lots to catch up on!!
• I make all digital books now (i.e., Shutterfly) but still have thousands of physical pictures to put in books. There's never enough time, is there? I remember hearing you say you always have new artwork coming home. Take a picture of Aidan holding his art and then take a picture of the art itself. You can make a digital book to show not only the art, but his pride and age when he did it.
• I use Creative Memories software, but usually print with
Artscow.com
. They often offer 8x8 hardcover books for free with $8 shipping. I've made a bunch with them and the quality is great!
Thanks so much Denise! I love your ideas! In case you can't tell, Denise knows a few things about photography. Check out her site:
www.PictureItDone.com
!